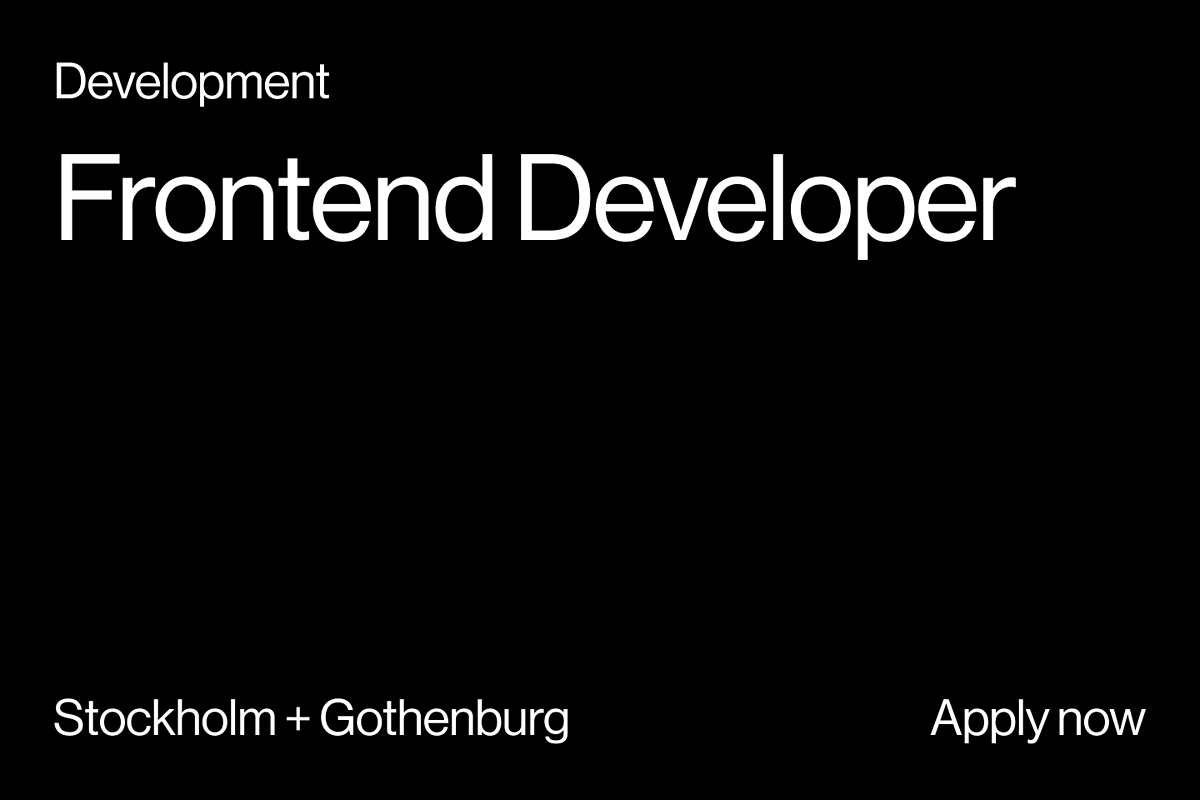 Shopify/Frontend Developer
Nu söker vi på Grebban en frontend/webbutvecklare till vårat Shopify-team. Vi söker dig som vill vara med och utveckla världens snyggaste e-handelssajter på Shopifys plattform.
Du kommer ingå i vårt nya Shopify-team där vi breddar vårt utbud på ytterligare en plattform. Vårat Shopify-team kommer delvis vara remote så inget krav att arbeta i Göteborg / Stockholm.

Grebban är en branding- och e-handelsbyrå med skön stämning, roliga kunder, platt hierarki och där alla får stort eget ansvar. Idag är vi 70+ anställda och är stolta över att vi har en härlig företagskultur, att alla är do:ers och att vi står för kvalitet.

Några av våra kunder är iDeal of Sweden, RoyalDesign, L:a Bruket, Craft Sportswear och Sandqvist. 
Vi söker dig som har:
Erfarenhet av webbutveckling HTML5, JavaScript/jQuery, CSS/SASS/LESS.
Kan eller vill lära dig Liquid (Shopifys template language)
Gillar snyggt skriven kod och god praxis inom webbstandarder, responsiv design samt utveckling för mobila enheter.
Vet hur du ska optimera en lösning för att maximera tillgänglighet och prestanda.
Är uppdaterad på ny teknik och hungrig på att lära dig nya saker.
Starkt intresse för bra design, UX och användarupplevelse.
Detaljorienterad och förstår värdet av pixel-perfect.
Meriterande om du har erfarenhet av React/Gatsby eller andra moderna Javascriptramverk.
Flytande Svenska/Engelska i både tal och text är ett krav.
Egenskaper vi gillar:
Du är stolt över din kunskap och förnyar den dagligen genom att lära av omvärlden.
Du är trevlig, flexibel och pragmatisk problemlösare.
Extra meriterande är om du har arbetat med frontend för e-handel tidigare.
Hellre rätt drivkraft än formella meriter eller utbildningar.

Vi rekryterar både juniora och seniora personer. För den här tjänsten går det att arbeta remote, i Mariestad/Skövde, i Stockholm eller i Göteborg.
Välkommen med din ansökan! 
Additional information
Remote status

Fully remote
Or, know someone who would be a perfect fit? Let them know!